November 14, 2017
Improved Function, Pain in Hand Osteoarthritis With Pregabalin
This article originally appeared
here.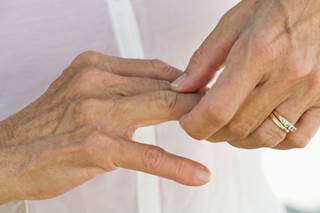 No improvements were noted in the duloxetine group relative to placebo.
Pregabalin, but not duloxetine, was shown to improve pain and function scores in patients with hand osteoarthritis, in a recent study published in the Journal of Pain Research.
In this prospective trial, 65 patients (age 40 to 75) with hand osteoarthritis and a numeric rating scale pain score of >5 were randomly assigned to receive duloxetine, pregabalin, or placebo for 13 weeks. Pain was evaluated with the numeric rating scale (primary end point) and the Australian and Canadian Hand Osteoarthritis Index (AUSCAN) pain, stiffness, and function scores (secondary end points).
Pain scores were significantly different between the 3 groups after 13 weeks (P =.008). In the intention-to-treat samples, pregabalin improved pain as measured by the numeric rating scale and AUSCAN pain scale (P =.02 and P =.008, respectively). Pregabalin also improved AUSCAN function scores (P =.009).
No improvements were noted in the duloxetine group relative to placebo in the intention-to-treat analysis (P >.05), but significant improvement was noted in the per-protocol analysis of duloxetine vs placebo (P =.03).
In an interview with Clinical Pain Advisor, Nidhi Sofat, PhD, study co-investigator and clinical reader and consultant rheumatologist at Saint George's University of London in the United Kingdom, explained, "When patients continue to have pain due to their hand osteoarthritis, despite taking conventional analgesics such as paracetamol or nonsteroidal anti-inflammatory drugs, pregabalin may provide a realistic alternative for pain control due to osteoarthritis."
Reference
Sofat N, Harrison A, Russell MD, et al. The effect of pregabalin or duloxetine on arthritis pain: a clinical and mechanistic study in people with hand osteoarthritis [published online October 10, 2017]. J Pain Res. doi:10.2147/JPR.S147640