March 23, 2018
Expert Insight: A Closer Look at Neurological Manifestations of Sjogren Syndrome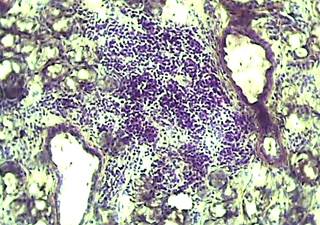 Neurological manifestations of primary Sjogren syndrome include sensory ataxic neuropathy, multiple mononeuropathy, multiple cranial neuropathy, and autonomic neuropathy.
Sjogren syndrome is an autoimmune disease characterized by dysfunction of exocrine glands that results in symptoms of dry mouth and dry eyes.1 Primary Sjogren syndrome occurs in the absence of other autoimmune diseases, whereas secondary Sjogren syndrome is associated with other autoimmune or connective tissue disorders.1
Primary Sjogren syndrome is the second most prevalent systemic autoimmune disease after rheumatoid arthritis,2 with disease incidence estimated at 0.1% to 3% of the general population.1 It is significantly more prevalent in women than in men2 — a study from Slovenia reported 10 times greater incidence in women and an average annual incidence of 3.9 cases per 100,000 inhabitants.3
Primary Sjogren syndrome is characterized by xerostomia and xerophthalmia,4 with a range of systemic manifestations that may be more or less severe.2 Neurologic manifestations of primary Sjogren syndrome include different forms of neuropathy such as sensory ataxic neuropathy, multiple mononeuropathy, painful sensory neuropathy without sensory ataxia, multiple cranial neuropathy, trigeminal neuropathy, radiculoneuropathy, and autonomic neuropathy.1,4 In a study of 92 patients with primary Sjogren syndrome-associated neuropathy, 93% were diagnosed with the disease after neuropathic symptoms appeared.4
In an interview with Rheumatology Advisor, Steven Carsons, MD, chief of the Division of Rheumatology, Allergy, and Immunology at New York University Winthrop Hospital; Sukesh Sukumaran, MD, DPMR, FACR, assistant professor of pediatrics and section chief of rheumatology at Arkansas Children's Hospital; and Cuong Q. Nguyen, PhD, assistant professor of immunology at the University of Florida College of Veterinary Medicine, discussed the symptoms and incidence of neurological manifestations in Sjogren syndrome and the latest research on this topic.
Rheumatology Advisor: Which symptoms point to neurological involvement in Sjogren syndrome? How often is the central nervous system affected?
Steven Carsons, MD: Common symptoms of neurologic involvement secondary to Sjogren syndrome include numbness and tingling of the extremities or problems with balance, representing peripheral neuropathy, facial pain secondary to trigeminal neuralgia, and patchy painful stinging and burning of the skin caused by small fiber neuropathy. Occasionally, there is weakness of one of the upper or lower extremities caused by motor neuropathy. Central nervous system involvement is thought to be rare and symptoms may include altered sensation and motor weakness. It is often a clinical challenge to differentiate nervous system involvement associated with primary Sjogren syndrome from overlapping syndromes that occur with other autoimmune disorders, such as systemic lupus erythematosus, antiphospholipid antibody syndrome, and multiple sclerosis.
Rheumatology Advisor: Which neurologic manifestations of Sjogren syndrome do you most often observe in patients in your clinical practice?
Dr Carsons: By far, the most common neurological manifestation of primary Sjogren syndrome seen in my clinical population is extremity numbness, tingling, and burning caused by either sensory peripheral neuropathy or small fiber neuropathy.
Rheumatology Advisor: How much time typically passes between the onset of Sjogren syndrome and the early symptoms of neurologic manifestations?
Dr Carsons: The interval between the onset of Sjogren syndrome and the development of extraglandular neurologic symptoms is variable and can range from weeks to years. Rarely, Sjogren syndrome can present with neurologic symptoms in the setting of minimal to absent ocular and oral dryness. In these cases, primary care physicians and neurologists need to have a high index of suspicion for Sjogren syndrome and consider autoantibody testing and rheumatologic evaluation.
Rheumatology Advisor: How does neurological involvement of Sjogren syndrome complicate the management of this disease?
Dr Carsons: Mild sensory neuropathic symptoms may only require symptomatic treatment with oral medication such as gabapentin. However, more severe neurologic syndromes associated with Sjogren syndrome, such as vasculitis-associated motor weakness and demyelinating disease, are serious extraglandular manifestations that may result in poor functional outcomes and high morbidity. These require aggressive treatment with immunosuppressive medication.
Rheumatology Advisor: Are neurological manifestations of primary Sjogren syndrome more prevalent in certain age groups or in men or women?
Dr Sukumaran: Different studies report differing numbers for age and sex prevalence. In general, the incidence is greater in women and the ratio is 30:1 (women:men) with neurological involvement, and 12:1 (women:men) with no neurological involvement in primary Sjogren syndrome.
Rheumatology Advisor: Which neurological manifestations are the most prevalent in primary Sjogren syndrome?
Dr Sukumaran: The neurological manifestation in primary Sjogren syndrome can be focal or diffuse. The diffuse pattern is usually characterized by cognitive impairment, visual disturbances, reduced attention span, aseptic meningitis, or psychiatric abnormalities. These features may be mistaken for encephalopathy or subacute encephalopathy. The focal neurological involvement is also characterized by a spectrum of clinical manifestations, including motor or sensory deficit, dysarthria, cerebellar manifestations, or seizures. In rare cases, spinal cord manifestation is also possible with features of transverse myelitis, neurogenic bladder, or features of lower motor neuron disease.
Rheumatology Advisor: How much is known about the underlying mechanism of neuropathies in Sjogren syndrome?
Cuong Nguyen, PhD: A number of epidemiological studies have examined the prevalence of neuropathies in Sjogren syndrome, but few studies investigated the underlying mechanism of this condition. We have shown that autoantibodies against neuroreceptors play a significant role in defective saliva/tear secretion and neuronal cell death.5-7 Others have found that autoantibodies reactive against nuclear antigens, alpha-fodrin, and ganglion neurons might be associated with neuropathy.8 Additionally, the invasion of destructive white blood cells in the nervous system could have major implications in neurologic dysfunction. Recent research suggests that low levels of vitamin D may be associated with peripheral neuropathy.9,10
References