November 01, 2018
Examining the Effects of Weight Loss in Patients With Knee OA, Obesity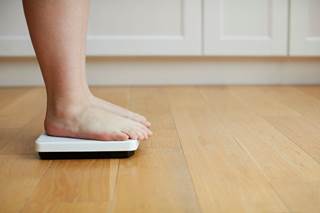 Diet and exercise remain the most recommended interventions to reduce pain, increase functionality, and potentially decrease progression of OA.
Osteoarthritis (OA) is a major cause of disability worldwide; the growing prevalence suggests that 130 million people may be affected by the year 2020.1,2 Obesity is a primary risk factor for the development of OA, measured by a body mass index (BMI) ≥30 kg/m2, or even being overweight without reaching obesity (BMI ≥ 25 kg/m2).3 Treatment for OA is limited to pain management until mobility is compromised and joint replacement surgery is warranted.1,4
Weight loss is recommended in clinical guidelines for treatment,5,6 based on evidence from a study by Christensen et al7 demonstrating that weight reduction of >5% of total body weight over the course of 20 weeks was associated with significant reduction of disability from OA. "Weight loss has been shown to relieve pain in obese patients with [OA]," Binh Nguyen, MD, a rheumatologist in private practice and assistant professor of rheumatology and clinical immunogenetics at the McGovern Medical School at The University of Texas Health Science Center, Houston, told Rheumatology Advisor. "Data from a cohort study of 1410 individuals showed a positive relation between changes in body weight and corresponding changes in self-reported pain and physical function," he said, referring to a 2013 study by Riddle and Stratford.8 "Patients who lost weight experienced increased mobility and quality of life, as well as satisfaction with body function and appearance."
Compounded Effect of Weight Loss
Weight loss in patients who are overweight or obese may improve symptoms through pathologic mechanisms in addition to reduction of joint burden. A 2018 review by Thomas and colleagues1 reported on an associated between OA and elevated serum cholesterol, as well as potential links to metabolic syndrome and type 2 diabetes, which suggests a shared role of inflammatory mechanisms. At the same time, investigators from the Netherlands observed that fat percentage, body fat mass, and waist-to-hip ratio were associated with OA of the hand, which is clearly unrelated to joint burden.9 Weight loss causes a reduction of adipose fat tissue and recovery of the normal balance of cytokine secretions, which in turn reduces expression of OA.
"In general, the more weight loss an obese patient with osteoarthritis can lose, the better the patient feels. Studies have shown obese patients with OA who lost 5% of body weight had only some relief," Dr Nguyen observed. He noted that although the National Institutes of Health (NIH) recommended a goal of 10% weight loss in obese individuals to provide significant reduction in pain, the most recent NIH study found that patients who lost 20% of their body weight reported less pain and improved ability to walk further.
Therapeutic Value of the Mediterranean Diet for OA
Recommendations for weight loss in patients with OA do not specify types of diets, leaving practitioners to follow their own best practices. Dr Nguyen encourages calorie restriction and increased exercise for obese patients with OA. "There is no diet that the American College of Rheumatology endorses for OA, since there is very little scientific data to support any particular diet," he said, although he noted the Mediterranean diet may help reduce pain associated with OA. Evidence from a 2017 study by Veronese et al10 showed that higher adherence to the Mediterranean diet among people from the Osteoarthritis Initiative, a collective of 4358 community-dwelling participants, was associated with a lower prevalence of OA, after adjusting for covariates. At the same time, high adherence to the diet corresponded to the lowest levels of BMI and comorbid conditions among the cohort, as well as higher education and income levels. The authors speculated that the Mediterranean diet may be protective against knee OA through anti-inflammatory mechanisms, reductions of oxidative stress markers, and possibly rebuilding of the extracellular matrix that is frequently damaged in patients with OA.10 "Other diets have not been evaluated in a rigorous scientific method, so the benefits of reducing inflammation by diet is unclear at this time," Dr Nguyen pointed out.
Reduction of cholesterol through statin use has also been shown to slow radiographic OA progression by up to 50%.1 Whether following the Mediterranean diet or another weight-loss program, dietary cholesterol-reducing strategies can achieve a significant low-density lipoprotein-lowering effect of as much as 35%, according to the Thomas review, a benefit that is equivalent to a starting dose of statins.1
At this time, in the absence of pharmacologic treatments for OA, diet and exercise to achieve at least a 5% to 10% weight loss remain the most recommended interventions to reduce pain, increase functionality, and potentially decrease progression of OA. "When it comes to weight loss, patients can be overwhelmed when they are told that they need to lose 10% of their body weight," Dr Nguyen said. "I usually recommend a steady weight loss of 1 pound per week, which is doable for most patients. The diet that I recommend for my patient is a well-balanced diet that provides all the essential nutrients and the recommended daily calcium intake."

follow @RheumAdvisor
References