September 13, 2018
Induction Therapy With Infliximab Plus Methotrexate May Benefit Patients With Early Arthritis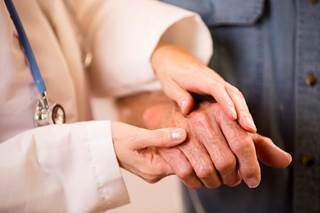 Short-term induction therapy with a TNF inhibitor plus MTX can yield long-term benefit in a considerable percentage of patients with early arthritis.
Intensive treatment with an anti-tumor necrosis factor (TNF) plus methotrexate (MTX) can alter the disease evolution in patients with very early inflammatory arthritis, according to a double-blind randomized placebo-controlled study published in Arthritis Research & Therapy.1
Although previous research indicates that early treatment with a TNF inhibitor plus MTX may allow some patients with rheumatoid arthritis to achieve a drug-free remission,2,3 these data are limited. Therefore, a multicenter trial was conducted in Europe in which 90 patients with synovitis of 12 weeks duration in at least 2 joints were randomly assigned to receive 1 year of treatment with infliximab (IFX) in combination with MTX, MTX monotherapy, or placebo.1
They found that by 54 weeks, 32% of patients in the IFX with MTX combination group achieved sustained remission compared with 14% of patients receiving MTX alone and 0% of patients in the placebo group. In addition, the majority (75%) of patients who had achieved remission with IFX with MTX combination therapy maintained remission during the second year, even after the withdrawal of all therapies. In comparison, 80% of patients on MTX alone lost their remission state.
"In conclusion, our study provides encouraging evidence that a short-term induction therapy with a TNF inhibitor plus MTX can yield long-term benefit in a considerable proportion of patients with early arthritis, even after cessation of all therapy," stated the authors.1 They added that, "While the current study involves only TNF as a target of biological therapy, the data nevertheless strongly support the possibility that patients with early inflammatory arthritis may have a window of opportunity in which disease reversal is possible."

follow @RheumAdvisor
References
Stamm TA, Machold KP, Aletaha D, et al. Induction of sustained remission in early inflammatory arthritis with the combination of infliximab plus methotrexate: the DINORA trial [published online August 9, 2018].Arthritis Res Ther. 2018;20:174.
Goekoop-Ruiterman YP, de Vries-Bouwstra JK, Allaart CF, et al. Comparison of treatment strategies in early rheumatoid arthritis: a randomized trial. Ann Intern Med. 2007;146(6):406-415.
Quinn MA, Conaghan PG, O'Connor PJ, et al. Very early treatment with infliximab in addition to methotrexate in early, poor-prognosis rheumatoid arthritis reduces magnetic resonance imaging evidence of synovitis and damage, with sustained benefit after infliximab withdrawal: results from a twelve-month randomized, double-blind, placebo-controlled trial. Arthritis Rheum. 2005;52(1):27-35.