March 19, 2018
Statin Use May Accelerate Disease Onset in Rheumatoid Arthritis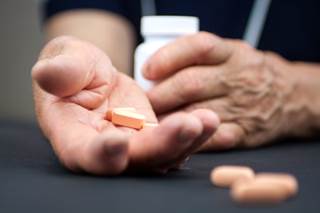 The risk of developing rheumatoid arthritis was increased in patients using statins compared with non-users.
Patients prescribed statins had an increased risk for rheumatoid arthritis (RA) within the first year of statin use compared with those who were not prescribed statins, according to a recent study published in PLOS One.
Participants who were ≥ 40 years of age with at least 1 prescribed statin (n=511,620) were enrolled from the Clinical Practice Research Datalink. Participants were assessed by diagnosis incidence and compared with nonstatin user control patients (n=511,620). Risk for RA developing was assessed in recently initiated statin users, long-term statin users, past statin users, and nonstatin users and compared among groups.
Among current statin users, risk for RA developing was comparable to that of nonstatin users (hazard ratio [HR] 1.06; 95% CI, 0.88-1.27). However, when analysis included variables such as length of statin use, current statin users who were on the therapy for ≤1 year had a 1.3-fold increased risk for RA developing. The risk for RA developing was higher at the start of statin therapy (adjusted HR 2.93; 95% CI, 2.46-3.49) and the risk declined one year after exposure to statin therapy (adjusted HR 0.95; 99% CI, 0.74-1.16). There was no association between incident RA and past statin use.
The study authors wrote, "The risk [for] RA is substantially increased in the first year after initiation of statins and then diminishes to baseline, suggesting an association between statin use and an increased risk [for] RA in the first year after initiating statin treatment." They added, "Our finding may suggest that statins can accelerate disease onset in patients susceptible to RA[developing], but in other patients, statins are probably safe and well tolerated, even after prolonged use."
Reference
de Jong HJI, Tervaert JWC, Lalmohamed A, et al. Pattern of risks of rheumatoid arthritis among patients using statins: A cohort study with the clinical practice research datalink [published February 23, 2018]. PLOS One. doi:10.1371/journal.pone.0193297