September 11, 2018
Undifferentiated Arthritis: Identifying Candidates for Early Treatment to Prevent Progression to RA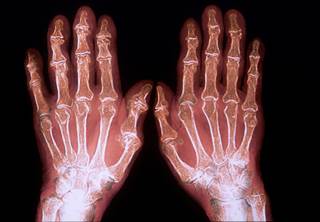 Because the signs are nonspecific, UA is generally a diagnosis of exclusion until criteria for RA can be met. Credit:ISM / SOVEREIGN
Undifferentiated arthritis (UA) is a common inflammatory form of arthritis involving joint swelling, pain, and stiffness that cannot be classified as a specific rheumatologic disorder. An estimated 45% to 55% of patients will achieve spontaneous remission, whereas up to 32% go on to develop rheumatoid arthritis (RA).1 Given the substantial overlap with RA, emerging theories suggest that UA represents a unique window of opportunity to intervene in the pathology of RA before it becomes established.
"Inflammatory arthritis is typically a clinical diagnosis, often associated with prolonged morning stiffness and improvement with use, warm temperature, and nonsteroidal anti-inflammatory drugs (NSAIDs)," John Miller, MD, a rheumatology specialist at Johns Hopkins Hospital and instructor of medicine at the Johns Hopkins University School of Medicine, Baltimore, Maryland, told Rheumatology Advisor. "Synovitis on exam may be overt, although with studies involving MRI and ultrasound, we also know that synovitis may not be detected on exam."
Because the signs are nonspecific, UA is generally a diagnosis of exclusion until criteria for RA can be met. "The sensitivity of the 2010 [American College of Rheumatology] ACR diagnostic criteria for rheumatoid arthritis is roughly 80% to 85%, so there are often patients with features of [RA] who do not initially meet classification criteria," Dr Miller observed. "This is supported by studies showing that up to at a third of patients with [UA] may later be classified as having [RA]." The clinical challenge is to identify patients with UA at risk for progression who may benefit from initiation of early RA treatment protocols using disease-modifying antirheumatic drug (DMARD) therapies.
Assessing Risk for UA Progression to RA
In a 2012 review, Pile outlined initial criteria for identifying patients with UA with a high probability of disease progression to RA, based on the Leiden Early Arthritis Clinic Prediction Rule, to include:2
Age/female gender/family history of RA
Early morning stiffness
Elevated erythrocyte sedimentation rate (ESR)/C-reactive protein (CRP) and swollen joint count as evidence of an inflammatory process
Positive rheumatoid factor (RF) or anti-citrullinated protein (CP) antibody serology
Joint involvement pattern: small vs large, upper and lower vs lower limb only, or symmetrical
Gradual onset and duration of symptoms of 8 weeks or longer at first presentation
Pile observed that, "it is evident the more features of RA you have at presentation the more likely you are, with time to fulfill RA criteria." In 2010, the ACR/European League Against Rheumatism (EULAR) provided updated recommendations that focused specifically on numbers of joints involved, serology, acute phase reactant, and duration of symptoms.3 The ACR/EULAR guidelines, along with the van der Helm-van Mil4 prediction model (which allows for scoring of these criteria), have been validated as useful in identifying patients with UA at highest risk for disease progression.2,5
A key factor in identifying the risk for progression to RA is the persistence of inflammatory arthritis, particularly in the presence of elevated serologic markers such as immunoglobulin M RF and anti-CP antibodies.6 As these 2 markers directly correlate with clinical signs of prolonged morning stiffness, high swollen and tender joint counts, high ESR, and the development of erosive changes, and are also indicative of poorer outcomes, testing for these values in patients with UA significantly enhances prediction.2,6
Indications for Treatment for UA
Dr Miller stated that all patients with inflammatory arthritis, including UA, should be considered for early treatment. "DMARD therapy may be delayed, as there is often further evaluation for crystalline, infectious, malignant, and metabolic etiologies," he said, adding that, "As patients with [UA] often present with pain and stiffness, we often use NSAIDs or glucocorticoids as we are evaluating other processes."
Using serologic markers as a basis for treatment with DMARD therapies has been shown to produce reductions in radiographic and MRI progression at 1 year.2 When DMARD therapy for UA is initiated, evidence points to methotrexate as the best potential treatment, in combination with other DMARDs or corticosteroids.1,7
"If DMARD therapy is pursued, we try to tailor immunosuppression to the degree of inflammation," Dr Miller explained. "For example, a patient with polyarthritis may be treated with methotrexate or leflunomide, and a patient with oligoarthritis may be treated with sulfasalazine or hydroxychloroquine. There are many other factors that go into selection of DMARD therapy, including renal and hepatic function, alcohol use, and allergies."
Current recommendations suggest that RA therapy should be initiated early when RA is first diagnosed, although not all patients identified to be at risk will actually develop RA.1,2,7,8 The evidence still points toward treatment, Dr Miller said. "Several early arthritis cohorts have shown the benefit of early treatment, and there is evidence that delaying therapy may decrease the ability of traditional DMARDs to induce remission."
Counseling patients who have an unconfirmed diagnosis of UA about the potential need for DMARD therapy presents unique challenges. "Patients are often uncomfortable with a diagnosis that includes 'undifferentiated,' " Dr Miller pointed out. "It is important to teach patients what this means to decrease anxiety and fear," he said, focusing on the benefits to preventing the more alarming prospect of RA. "I try to reassure them that if symptoms persist, we have many effective medications for inflammatory arthritis that can improve pain, stiffness, and function and prevent progressive joint damage."

follow @RheumAdvisor
References