March 20, 2018
Chikungunya Virus: What Every Rheumatologist Should Know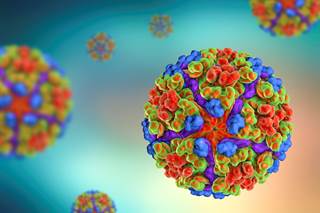 Rheumatologists should be prepared to consider chikungunya arthritis in any patient with a travel history and a history of febrile illness with arthralgia.
Caused by bites from infected Aedes mosquitoes, chikungunya virus has become a disease of global concern, due to its potentially disabling consequences and its efficiency in transmission. Chikungunya translates to "that which bends up" in the Makonde language, a reference to the hunched posture that affected people sometimes assume is due to symptoms of severe arthralgia.1 Before 2013, chikungunya virus was considered to be primarily endemic to Africa, Asia, and the Indian subcontinent.
However, late that year, cases began to emerge on the Caribbean island of Saint Martin. Since then, the incidence of the disease in the Americas has increased precipitously, with almost 4 million cases cumulatively reported in the Americas as of December 2017. A total of 150 laboratory-confirmed cases of chikungunya virus with illness onset in 2017 were reported to the US Centers for Disease Control and Prevention (CDC) by state and local health departments from the United States.2 Of these locally acquired cases, 36 were reported from Puerto Rico; all others were travel-related. Chikungunya virus was designated a nationally notifiable condition in 2015.
Following an incubation period of 2 to 7 days, 95% of people infected with the chikungunya virus develop the sudden onset of high fever typically >102°F, headaches, rash, intense diffuse muscle pain, and symmetric polyarthritis.3 No specific therapies are available for the treatment of acute chikungunya. Treatment is primarily aimed at controlling symptoms with analgesics, nonsteroidal anti-inflammatory drugs (NSAIDs), or low-dose steroids.4 While the manifestations of the disease are usually self-limited, with a typical duration of less than a week, some patients progress to a chronic stage of disease after the acute infection resolves. In the chronic stage, joint inflammation and arthralgia can continue for weeks, months, or even years.5,6 Symptoms in this phase can be persistent or follow a relapsing-remitting pattern.7 They are frequently associated with the impairment of normal activities of daily life, limitations in mobility, psychosocial sequelae, and significant decrements to quality of life.8,9 A study led by Aileen Y. Chang, MD, MSPH, of George Washington University in Washington, DC, found that in a cohort of 500 patients infected with chikungunya virus during the 2014 to 2015 Colombian epidemic, 25% had persistent joint pain at 20 months post-infection.10
The mechanisms responsible for chikungunya-related chronic arthritis are not yet well-understood, but findings from another study led by Dr Chang suggest that viral persistence is not the cause.11 No evidence of chikungunya virus was found in the synovial fluid of 38 patients with chronic arthritis, which developed subsequent to chikungunya virus infection, during the 2014 to 2015 Colombian epidemic. Synovial fluid was investigated via viral culture, quantitative reverse transcription polymerase chain reaction, and mass spectrometry analysis. Dr Chang and colleagues wrote that "This finding suggests that chikungunya virus may cause arthritis through induction of potential host autoimmunity, suggesting a role for immunomodulating agents in the treatment of chikungunya arthritis, or that low-level viral persistence exists in synovial tissue only and is undetectable in synovial fluid."
In another recent study involving 140 patients infected with the chikungunya virus, smoking and female sex were identified as the main risk factors for severe joint pain in both the acute and chronic phases of the disease. The authors of the study noted that these risk factors appear to be similar to those associated with the development and severity of rheumatoid arthritis (RA), possibly pointing to a shared pathophysiological mechanism.12 A systematic review of studies on the treatment of chronic chikungunya arthritis with methotrexate, the cornerstone of RA therapy, demonstrated sufficient efficacy to justify interest in its use, despite limited evidence.13
"We still don't know the mechanisms of how chikungunya virus causes persistent arthritis, and we don't have large scale randomized treatment trials to give evidence-based guidelines for treatment of chikungunya arthritis," Dr Chang told Rheumatology Advisor. She stated that rheumatologists should be prepared to consider chikungunya arthritis in any patient with a travel history and a history of febrile illness with arthralgias. "Chikungunya virus is relevant to rheumatologists in the United States because we see patients who may become infected with chikungunya virus while traveling or visiting family in endemic areas and return with persistent arthritis," she noted. "A simple enzyme-linked immunosorbent assay to test for chikungunya immunoglobulin M (IgM) and IgG in a returning traveler is a valuable diagnostic in patients who present with a history of these symptoms. Patients with joint pain that started initially in symmetrical small joints during a febrile illness after exposure to an endemic area for chikungunya should be tested for the virus."
Dr Chang stated it is not likely that the United States is at risk for a widespread outbreak of the chikungunya virus. "The mosquitos that spread chikungunya virus do live in the Southern half of the United States, and we do have travelers who bring back the virus. If we use dengue fever as an example, we tend to have 'popcorn' outbreaks that are self-limited in the Southern United States. As long as we stay on top of our mosquito control and case surveillance, the United States can likely prevent having a large epidemic."

follow @RheumAdvisor
References
Chikungunya in the French part of the Caribbean isle of Saint Martin. World Health Organization. http://www.who.int/csr/don/2013_12_10a/en/. Published December 10, 2013. Accessed March 8, 2018.
Chikungunya Virus: 2017 provisional data for the United States. US Centers for Disease Control and Prevention. https://www.cdc.gov/chikungunya/geo/united-states-2017.html. Published January 11, 2018. Accessed March 10, 2018.
Goupil BA, Mores CN. A review of chikungunya virus-induced arthralgia: clinical manifestations, therapeutics, and pathogenesis. Open Rheumatol J. 2016;10:129-140.
Mathew AJ, Ganapati A, Kabeerdoss J, et al. Chikungunya infection: a global public health menace. Curr Allergy Asthma Rep. 2017;17(2):13.
Rodríguez-Morales AJ, Cardona-Ospina JA, Fernanda Urbano-Garzón S, Sebastian Hurtado-Zapata J. Prevalence of post-chikungunya infection chronic inflammatory arthritis: a systematic review and meta-analysis. Arthritis Care Res. 2016;68(12):1849-1858.
Arroyo-Ávila M, Vilá LM. Rheumatic manifestations in patients with chikungunya infection. P R Health Sci J. 2015;34(2):71-77.
Schilte C, Staikowsky F, Staikovsky F, et al. Chikungunya virus-associated long-term arthralgia: a 36-month prospective longitudinal study. PLoS Negl Trop Dis. 2013;7(3):e2137.
Couturier E, Guillemin F, Mura M, et al. Impaired quality of life after chikungunya virus infection: a 2-year follow-up study. Rheumatology. 2012;51(7):1315-1322.
Elsinga J, Grobusch MP, Tami A, Gerstenbluth I, Bailey A. Health-related impact on quality of life and coping strategies for chikungunya: A qualitative study in Curaçao. PLoS Negl Trop Dis. 2017;11(10):e0005987.
Chang AY, Encinales L, Porras A, et al. Frequency of chronic joint pain following chikungunya virus infection: a Colombian cohort study [published online December 20, 2017]. Arthritis Rheumatol. doi:10.1002/art.40384
Chang AY, Martins KAO, Encinales L, et al. Chikungunya arthritis mechanisms in the Americas [published online March 7, 2018]. Arthritis Rheumatol. doi:10.1002/art.40383
Delgado-Enciso I, Paz-Michel B, Melnikov V, et al. Smoking and female sex as key risk factors associated with severe arthralgia in acute and chronic phases of chikungunya virus infection. Exp Ther Med. 2018;15(3):2634-2642.
Amaral JK, Sutaria R, Schoen RT. Treatment of chronic chikungunya arthritis with methotrexate: a systematic review [published online January 23, 2018]. Arthritis Care Res. doi:10.1002/acr.23519