January 25, 2019
Clinical Trials in Childhood-Onset Systemic Lupus Erythematosus: Next Steps and Future Directions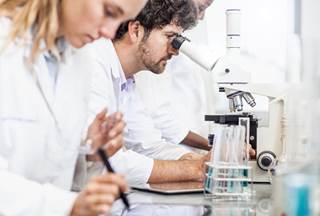 Lack of approved medications for cSLE leads to delays in providing care at a time when healthcare providers are restricted in prescribing off-label medications.
In approximately 10% to 20% of individuals with systemic lupus erythematosus (SLE), disease onset occurs before the age of 18 years.1 Childhood-onset SLE (cSLE) affects an estimated 9.73 per 100,000 persons in the United States (95% CI, 9.38-10.08 per 100,000 persons), with a greater prevalence in girls vs boys. Higher rates of acute onset, ongoing inflammation, and multiorgan disease have been observed in cSLE compared with adult-onset SLE. In addition, rates of lupus nephritis and neuropsychiatric involvement are approximately 30% and 25% more common, respectively, in cSLE vs adult-onset SLE.1
Chronic use of corticosteroids and immunosuppressive drugs is more often required in cSLE, and these patients have more frequent hospitalizations, greater organ damage, and higher mortality rates. "Despite these dissimilarities, there are no laboratory abnormalities, signs or symptoms that only occur in cSLE but not in SLE with onset during adulthood," stated the authors of a recent review paper published in the Annals of the Rheumatic Diseases.1
There are currently no drugs approved by the US Food and Drug Administration (FDA) that indicated for the treatment of cSLE, leading to "delays in providing proper care in a time where physicians are restricted in prescribing off-label medications, especially if their price is high."1 They discussed various considerations regarding studies investigating potential new therapies for cSLE.
Legislation in the United States requires that new drugs be tested in children when there are pediatric diseases that are similar to a nonorphan disease that affects adults.2 Certain allowances are made for pharmaceutical companies in this context; for example, an additional period of time for market exclusivity. Between completion of phase 2 studies and initiation of phase 3 studies in adults, pharmaceutical companies must submit a Pediatric Study Plan.3 Such "legislation has been a great success in that several medications received licensing for use in children, especially in paediatric rheumatology and infectious diseases," as stated in the review.1
To limit the number and complexity of required studies, drug development programs may consider pediatric extrapolation, an "approach to providing evidence in support of effective and safe use of drugs in the paediatric population when it can be assumed that the course of the disease and the expected response to a medicinal product is sufficiently similar" in these patients and the reference population (adults or another pediatric population).1 "Thus, previously acquired data from studies in adults with SLE and other diseases, information collected from other paediatric populations and preclinical data are all considered in the extrapolation concept for cSLE."
According to the FDA, a superiority study is the most realistic approach to SLE research, with a duration of at least 1 year, and the use of American College of Rheumatology classification criteria are recommended for screening study subjects. The use of biomarkers is encouraged for research regarding new therapies for SLE and cSLE.
In testing the efficacy of medications for cSLE, there are substantial shortcomings associated with the usual approach of a double-blinded, placebo-controlled randomized controlled trial with a fixed target sample size. In the belimumab trial for cSLE (NCT01649765), for example, 12-month exposure to placebo infusions was required for participating children, and the study was insufficiently powered to assess differences in efficacy and safety compared with adult-onset SLE.4
Researchers of the review conducted a survey that included 192 investigators from the Paediatric Rheumatology International Trials Organisation and 161 investigators from the Pediatric Rheumatology Collaborative Study Group. Survey data show that more than 70% of respondents favored an open-label pharmacokinetic-pharmacodynamic study vs a blinded, parallel, placebo-controlled study (21% to 30%).
An adaptive clinical trial design may be most appropriate for studies of uncommon diseases such as cSLE. For example, sequential adaptive trials involve intermittent analysis of data to inform decisions about termination if concerns about efficacy, safety, or futility arise. A seamless phase 2 or 3 design represents another approach used in research pertaining to rare diseases; this combines phase 2 and phase 3 studies to allow participation in both phases for some patients.
If blinded or controlled studies are deemed necessary to investigate therapies for cSLE, designs used in other rare diseases may be appropriate. In a randomized withdrawal design, all patients receive instant open-label active study drug during part 1 of the study, whereas placebo exposure is limited to those showing improvement during part 1, and nonresponders may be discontinued before randomization.
Considering the effect of specific organ system involvement on health-related quality of life and long-term prognosis in cSLE, the organ-specific effects of medication should be tested. In addition to core indicators such as disease activity and renal function, outcome measures associated with treatment should be collected for musculoskeletal, cutaneous, and neuropsychiatric manifestations, as well as lupus nephritis.
"There is a dire need to develop new medicines for the treatment of cSLE in general and lupus nephritis in particular," the authors concluded. The "use of extrapolation plan including data from other sources, particularly from adult trials, together with open-label and innovative design studies will be more expedient in providing children with cSLE access to new medications."

follow @RheumAdvisor
References