March 28, 2018
Addressing Racial Disparities in Systemic Lupus Erythematosus Treatment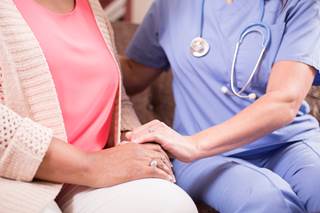 Systemic lupus erythematosus is 3 to 4 times more likely to affect African Americans than white Americans.
By conservative estimates, systemic lupus erythematosus (SLE) affects approximately 161,000 people in the United States.1 The disease is 8 to 10 times more likely to occur in women than in men, and 3 to 4 times more likely to affect African Americans than white Americans.2 In addition to the higher prevalence, racial disparities have also been observed in the disease course and outcomes of African Americans with SLE compared with white patients with SLE. These disparities include significantly higher rates of mortality and depression, as well as greater disease activity and SLE-related damage accrual.3
Although the reasons for these disparities have not been clarified, racial discrimination has been cited as a potential contributing factor. "It can affect health through exposure, susceptibility, and responses to economic and social deprivation; toxic or hazardous conditions; socially inflicted trauma; or inadequate healthcare," wrote the authors of a 2015 study published in Lupus Science and Medicine.3
Previous research has demonstrated that higher levels of perceived racism and discrimination are associated with worse mental and physical health status, lower satisfaction with medical care, a greater likelihood of tobacco and alcohol use, higher levels of inflammation, increased risk for coronary artery obstruction, and a lower likelihood of seeking medical and preventive care.3
The authors of the 2015 study investigated whether perceptions of racial discrimination in the health care system differ between African American (n = 163) and white (n = 180) patients with SLE. In contrast to personal experiences of discrimination, this construct pertains to perceptions of discrimination in the health care system in general. They further explored whether such perceptions were linked to race-based disparities in SLE outcomes. Data were collected through chart reviews and structured interviews with patients at 2 academic medical centers in the United States.
The findings revealed the following observations:
There was a high perception of healthcare discrimination in 56.0% of African American patients vs 32.8% of white patients (P <.001). This difference (odds ratio [OR], 4.75; 95% CI, 2.41-8.68) remained unchanged after adjustment for factors that may affect perceptions of racism, such as sociodemographic characteristics and personal healthcare experiences.
·Other factors associated with high levels of perceived racism were female gender (P =.012) and lower trust in physicians (P <.001).
Higher odds of greater disease damage (Systemic Lupus International Collaborating Clinics damage index ≥2) were found in African American patients compared with white patients (crude OR, 1.55; 95% CI, 1.01-2.38), as were higher odds of moderate to severe depression as defined by a score of ≥17 on the Center for Epidemiologic Studies Depression scale (crude OR, 1.94; 95% CI, 1.26-2.98). These disparities were no longer significant after adjustments were made for sociodemographic and clinical characteristics.
Higher perceived racism among African American patients was linked to moderate to severe depression (adjusted OR, 1.23; 95% CI, 1.05-1.43) even after adjusting for sociodemographic and clinical variables.
"Future research should explore the inverse relationship between trust in physicians and perceived racism to determine whether low levels of trust are a cause or consequence of perceived racism and whether interventions to enhance physician-patient trust can reduce perceived racism and lead to improved health outcomes," the authors concluded.
To further explore the topic, Rheumatology Advisor interviewed Medha Barbhaiya, MD, a rheumatologist and clinical researcher at the Hospital for Special Surgery and Weill Cornell Medical College in New York City.
Rheumatology Advisor: What is known about racial disparities in SLE outcomes?
Dr Barbhaiya: SLE is known to disproportionately affect non-white populations in the United States. SLE develops in African American women, for example, at rates that are 3 to 4 times higher than their white counterparts. Other racial and ethnic minorities, including Hispanic, Asian, and Native American individuals, are also at increased risk for SLE. Past studies have reported poor outcomes, including high rates of lupus kidney disease and other organ damage, among African American, Hispanic, and Asian, individuals with SLE.
Furthermore, the risk for end-stage kidney disease from lupus appears to have risen dramatically from 1995 to 2004 in the United States, particularly among those between 20 and 39 years, women, and racial and ethnic minorities. In prior work with collaborators at Brigham and Women's Hospital in Boston, our group has shown that mortality and cardiovascular disease risks are increased among African American patients with SLE but are surprisingly lower among Asian and Hispanic individuals with SLE compared with white individuals in the Medicaid population.4 These findings need to be replicated in other large population studies.
Rheumatology Advisor: How can healthcare providers help to reduce these disparities?
Dr Barbhaiya: Increased understanding of how race and ethnicity in SLE influence outcomes may help us to identify patients at high risk for poor outcomes, improve prevention strategies, and enhance disease management among patients with SLE. Documenting and understanding this variation is important to determine prognoses for individual patients, and it may help further investigation into the root causes of such variation in mortality, including genetic and environmental factors. Given that decreased access to quality health care is a challenge for minority and disadvantaged groups in the United States, helping patients navigate a complex medical system may help improve outcomes related to the disease.
Rheumatology Advisor: What should be the focus of future research on this topic?
Dr Barbhaiya: Future SLE research among racial and ethnic groups should consider the role of diversity in genetic factors, biomarkers, lifestyle and physical activity, other thrombotic risk factors, and socioeconomics among various subpopulations. [Studies should also] evaluate potential gene-environment interactions in relation to outcomes. In addition, the relationship between barriers to healthcare access and long-term outcomes related to SLE need to be further investigated among non-white populations in the United States.
References